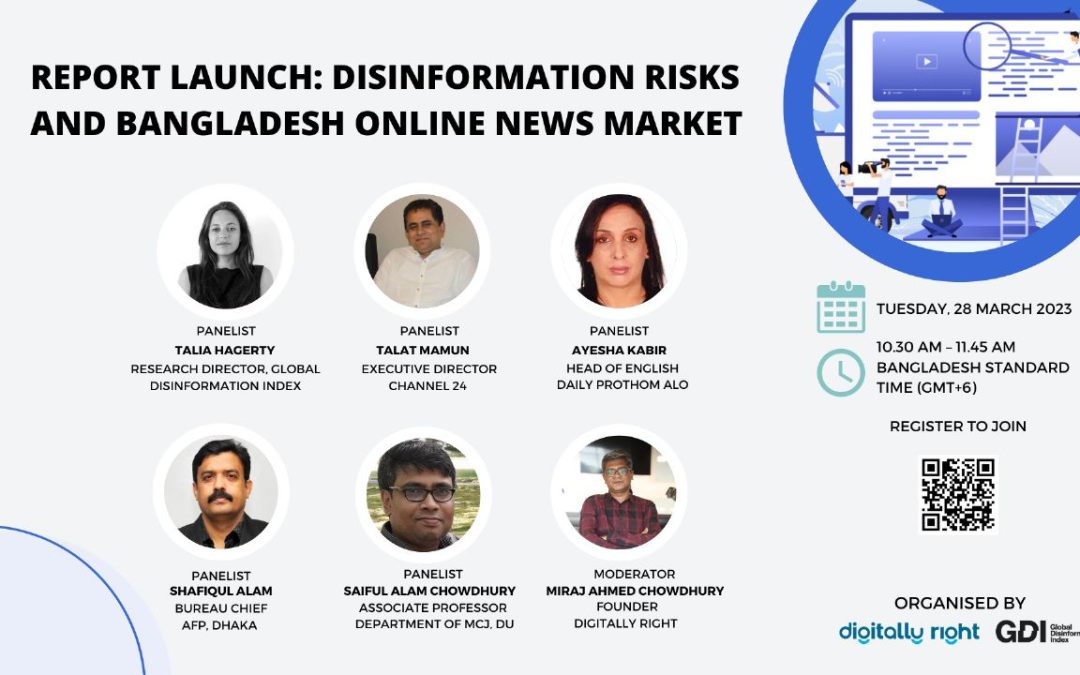 Digitally Right and the Global Disinformation Index (GDI) are launching a study into the disinformation risks on digital news platforms in Bangladesh. The study is based on an assessment of editorial and operational transparency in 33 Bangladeshi news domains creating an index that intends to serve the media and advertisers that they can utilize to defund disinformation.
The virtual launch event for the report is scheduled for 10:30 am on March 28th, 2023, and it will be held on Zoom. The event will feature an expert panel of media editors, researchers, and representatives from GDI and Digitally Right. To register for the event, please visit the following link: https://zoom.us/webinar/register/WN_0hTiIud-RHelA54ep1C0pw
The expansion of news into the online world has exposed the industry to new risks of disinformation, which can be financially incentivized for news websites. Disinformation can have harmful consequences, such as disrupting society's shared sense of accepted facts and undermining public health and safety. 
To combat ad-funded disinformation, GDI provides independent, trusted, and neutral ratings of news domains' risk of disinforming their readers. These ratings can be used by advertisers, ad tech companies, and platforms to redirect their online ad spending in line with their brand safety and disinformation risk-mitigation strategies.
In 2022, GDI rated the disinformation risks of news sites in 20 countries around the world. Digitally Right, a Dhaka based media and technology research company collaborated with GDI to conduct the online news market assessment in Bangladesh. 
We invite you to the launch event of the report titled "Disinformation Risk Assessment: The Online News Market in Bangladesh," and a panel discussion that focuses on the risk of disinformation, trust in media, and their impact on media sustainability.